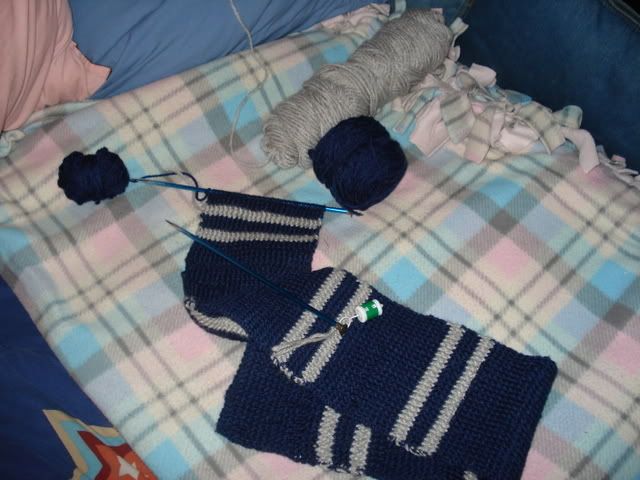 This is my Ravenclaw movie colour scarf that I started. It's been on the needles FOREVER, due to the fact that I only started it because I was itching to get a HP scarf worked on. BUT I'm not a fan of the movie colours, I'm a die hard stick to the books person. It's also done in really cheap (Red Heart Super Saver) acrylic. I've since become quite the fiber snob, and wouldn't use this yarn ever again. I've bought nice merino wool in bronze and navy to eventually make myself a book colour scarf, but until that's done here's what I've got.
The other thing about this scarf is that since it was my 2nd ever knitting project the stitching i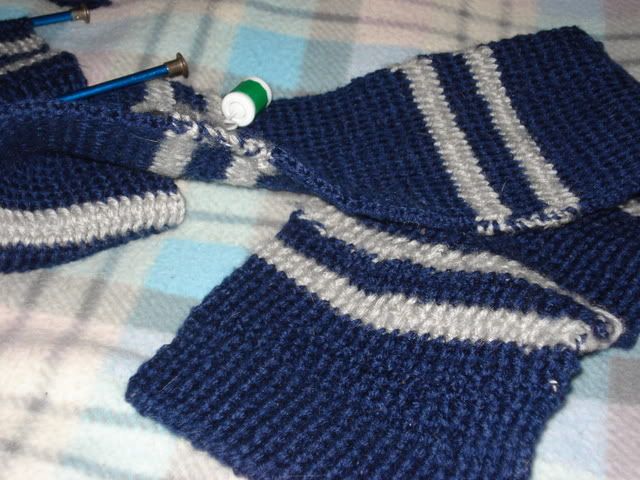 n the beginning is... well, not neat. The other thing is that I was carrying the yarn to avoid weaving in ends, and I didn't quite get the technique quite right at first. Both of these can be seen in this picture.
I'm hoping to finish this soon, mostly because I've gotten sick of have WIPs all over the place.
EDIT:
After seeing the last picture on the computer screen, I've determined that the colours are actually kind of pretty looking on screen. They don't look nearly as nice in person though. It could be because I'm so sick of it that I can't stand them anymore and they actually are nice colours, or it could be that crappy yarn photographs well. I'm more inclined to believe the latter, due to my feelings as stated in the former.